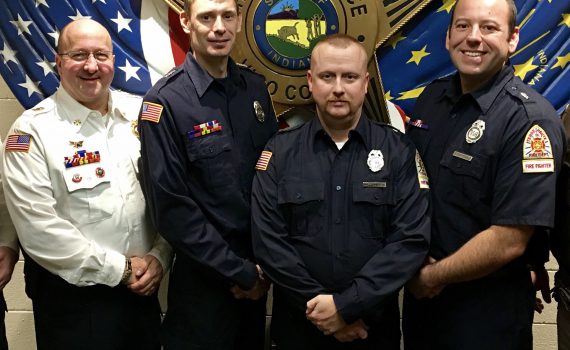 Category:
Success Story
Norman Loudermilk, the Assistant Fire Chief of Terre Haute Fire Department knew after search nine months for a fire inspection; things needed to change.
Our entire operation was kept on paper, we had nine filing cabinets housing fire inspections based on the month they were completed. There was no backup, no data management and no checks and balances. It was poor record keeping at best. Furthermore, business owners could change business locations and we had no way to track previous violations; no way to track trends in their multiple locations or trends in a single structure after multiple businesses occupied it.
Nine months to find a previous inspection report
In one incident, we had a fire hazard reported at a business. It took nine months to find the previous inspection. We found that sometimes old inspections were thrown away. In addition, signatures of owners were not required on inspections, which left us to wonder in some cases if inspections were done.
This was unacceptable. We needed accountability and a better way to serve our community. I searched the web for software companies and quickly became overwhelmed. It felt like a large undertaking. While attending a NFPA Certification class in Lafayette, Indiana; I spoke with Fire Marshal, Brian Alkire about my frustration and he told me about Codepal. After several discussions and seeing their reports, I visited the Codepal website. I was ready to make a change, I just needed the right tools.
I met with Lafayette Fire Department and the Codepal sales staff. Lafayette's department is a mirror of ours, so I was able to see the software used in a real environment, not a boxed demo. I liked the Lafayette set up, but felt the investigation piece was lacking. I was sold when I heard "Tell us what you want, and we'll provide it" by Codepal sales staff. Why recreate the wheel, just make it better? We purchased a pre-designed Lafayette's set up and worked with the Codepal staff to design an investigation piece that suited our needs. The collaboration between departments and the ability to share ideas on how to use the software has been a bonus.
Codepal helped us get on the right track
We went from 3000 business inspections in nine filing cabinets to everything on the server available on 3 surface pros'. I have access to every inspection based on business or owner and I can see all the details of any given inspection. It's cross referencing and easy to use. With Codepal, it's like Terre Haute Fire, take two. We're building what we want, the way we want it. We're collecting signatures in the field electronically and emailing reports instantly. This was imperative to verify every inspection is done. Customers are happier, and it has increased our visibility in the community. We're able to complete our tasks quicker and we're inspecting every property. Our department went from an average of 2 inspections a day/ 710 businesses annually, to 16-20 inspections a day*. We are looking at adding a new inspector and have the evidence to back up the request.
We are approaching the one-year mark of using Codepal and reaching our first round of next annual inspections. I suspect these numbers will increase now that we have the initial inspections set.
Codepal gave us a system with checks and balances and keeps us in line with the law. Our Investigation reports have been challenged in the court system and held up. Everything is in chronological order and stood up against scrutiny making convictions easier.
Codepal's #1 selling point, outside the software, has been their support staff. From sales to support, the staff is outstanding. We're able to call when we have any questions or changes. Laws change and processes change, Codepal is always able to help us make the necessary changes.
*based on an average day with no fire investigations

Norm Loudermilk – Assistant Chief
Terre Haute Fire Department
Terre Haute, Indiana
---