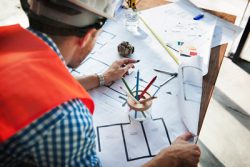 Category:
Trends
Changing from paper plan reviews to an online electronic process is a quickly growing area of interest in the industries we serve. Emerging technologies have made this easier and more efficient. With the advances in technology providing large screen monitors, graphic design programs and the internet, we no longer need to rely on rolls of paper.
To make the decision easier, we've compiled the top 3 reasons to switch to an electronic environment. And not just for plan reviews.
1. Centralized Plan Management
Reduce Storage Space
Large plans require storage space until reviews are completed. With electronic processing, the space need is eliminated. For example, documents can be stored on a network, in a database, or in the cloud. No more storage room needed.
Document Security
Plans can be lost or misplaced when passing plans between departments. This adds time and frustration to your project. With digital storage, you will always know where the plans are. And everyone has access to them.
Access plans quickly
Accessing physical plans and documents can be a hassle. This is a hassle. Access your plans anywhere, anytime. This adds to the time saved. For instance, you will no longer need to swing by the office to pick up forgotten plans on your wait to an inspection.
Avoid loss, damage or delay after a natural disaster
Planning for a natural disaster is not a popular subject, however, it is one that should take place. Damage to a facility results in damage to stored assets. This adds time to an already lengthy process. With electronic storage, these items are safe from disaster. Immediately pick up where you left off.
2. Review Management
Reduce processing time up to 50%
Time is money. Time to print multiple copies, deliver and distribute plans, share with other departments and request corrections. Rinse and repeat. And this can continue for up to 18 months. Instantly receive plans in numerous locations. Approve plans quickly with improved communications. As a result, faster review processes, lead to earlier development and tax collection for your city.
Skip the economic costs and wasted time. CAD programs can save digital plans. With plans submitted electronically, communications are instant for correction requests. Re-submit plans and finalize approvals faster.
Additionally, Codepal can reference your purchased codebooks instantly. No more digging for the code to refrence or misquoting code. Set up a list of frequent reference for a faster result.
Parallel reviews
Conducting plan reviews shouldn't be like herding cattle. Digital files are easily shared and reviewed. Therefore, all departments are working simultaneously.
Coordinated Review Notes
During a plan review, multiple people in your city are handling the plans and making notations. This can be counter-productive to your communication efforts. For this reason, coordinating your notes in one accessible location breaks through the communication barrier.
3. Improved Service
Open 24 hours a day
For your community, having open hours to submit applications and plans are a huge success. For contractors, taking time from their heavy workload to stop by an office when it is open is inconvenient. Equally important, your staff will not spend their time working with customers, if they are collecting electronic documents online.
Communication abilities increased
As stated above, communication is challenging. With Codepal, your staff has access to a complete history. Also, you gain the ability to send communications with anyone detailing the entered notations. As a result, you will save time typing out communication for details you've already entered.
Reduced management and archiving costs
Storing and archiving plans can be labor intensive and expensive. Moving to an electronic environment eliminates this problem. Because filing and document tracking are automatic it eliminates the need for physical document management.
Economic Value
The economic value saved by gas cost for travel, printing costs for plans and documents, and storage space no longer needed adds up to substantial savings all around. Of course, this could fluctuate based on fuel costs, travel distance and copies. But the value adds up quickly.
The time and money saved using electronic plan reviews are obvious. The frustration saved is priceless.
Interested in more information about our Plan Review process? Click here for more information or call us at 217-787-1133