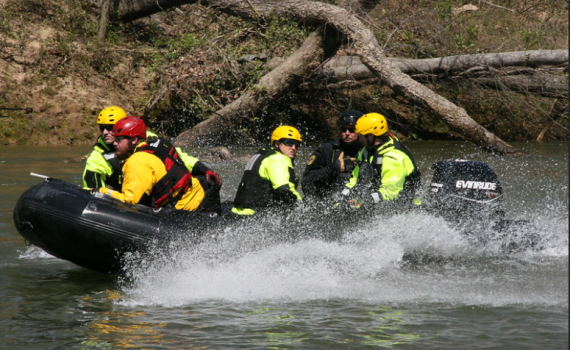 Category:
Success Story
Our friends at Burke County Emergency Management recently hosted a successful flood rescue training exercise. Several states participated,
along with teams from Canada, Chile, and Mexico. March 30 – April 3, 2019, the NC Catawba Flood Exercise was held at Western Piedmont Community
College Emergency Services Training Center in Morganton, North Carolina.
"There was no cost to participate. We were able to secure exercise grant funds and SAR designated exercise funding to put this together. Burke County was awarded the grant to do a local exercise and when we found out other funding was coming available. We talked with state Emergency Management and decided to combine forces and offer a bigger statewide event. North Carolina has never put on an exercise of this type and magnitude before. Everyone is very pleased with the outcome. With it being our first, we certainly learned a tremendous amount to make it better next time. We hope to do it again provided we can secure the funding." says Mike Willis, Burke County Fire Marshal/EM Director
About the Catawba Flood Exercise
The 2019 Catawba Flood Exercise was a wide area search exercise designed to test water rescue capability to mobilize, integrate, and deploy flood rescue assets in response to a large scale-flooding incident. The exercise included areas to test resources in dynamic and static water rescue, wide area search, logistics, and base of operations, communications, as well as command and control. Air and ground resources were utilized to respond to various scenarios and time was provided for debriefings to share best practices across the various response agencies. This exercise was open to in-state and out of state resources as one of the main exercise objectives is to integrate response organizations across multiple jurisdictions.
Congratulations Burke County Emergency Management on the success of your event and we wish you success in future events.
Photos and videos of the event
Newspaper article: Flood exercise brings national attention to Burke County